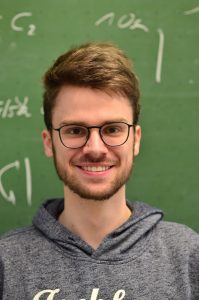 Johannes Hirth
Raum 0443
Universität Kassel
Fachbereich Elektrotechnik/Informatik
Fachgebiet Wissensverarbeitung
Wilhelmshöher Allee 73
34121 Kassel
Tel.: +49 561 804-6350
Fax.: +49 561 804-6259
Email: hirth@cs.uni-kassel.de (PGP-Key: 0x2D9F0D2E01928BC8)
Publications
Hanika, T., Hirth, J.:

Quantifying the Conceptual Error in Dimensionality Reduction

. In: Braun, T., Gehrke, M., Hanika, T., and Hernandez, N. (eds.) Graph-Based Representation and Reasoning - 26th International Conference on Conceptual Structures, ICCS 2021, Virtual Event, September 20-22, 2021, Proceedings. pp. 105–118. Springer (2021).

URLBibTeXEndNoteDOIBibSonomy

Hanika, T., Hirth, J.:

Exploring Scale-Measures of Data Sets

. In: Braud, A., Buzmakov, A., Hanika, T., and Ber, F.L. (eds.) Formal Concept Analysis - 16th International Conference, ICFCA 2021, Strasbourg, France, June 29 - July 2, 2021, Proceedings. pp. 261–269. Springer (2021).

URLBibTeXEndNoteDOIBibSonomy
Talks
September 2021: 'Quantifying the Conceptual Error in Dimensionality Reduction', Applications of Formal Sciences: Explainable AI, Dagstuhl
March 2021: 'Discovery of Conceptual Measurements/Entdecken Begrifflicher Messungen', Application of Formal Sciences — Explainable Artificial Intelligence, Dagstuhl
September 2020: 'Navigating Conceptual Measurements', Dagstuhl Meeting on the Application of Formal Sciences — Knowledge Engineering
Reviewing
Subreviewer: ICCS, 12–15 September 2022, Münster, Germany
Subreviewer: ECML PKDD, 19–23 September 2022, Grenoble, France
Subreviewer: FCA4AI-2021, 21 August 2021, Montréal, Canada
Subreviewer: ECML PKDD, 13–17 September 2021
Subreviewer: 17th Russian Conference on Artificial Intelligence, 21–25 October, 2019, Ulyanovsk, Russia​
Subreviewer: 11th ACM conference ​on Web Science, June 30–July 3, 2019, Boston, MA, USA​
Teaching
Summer Term 2022:
Winter Term 2021:
Summer Term 2021:
Winter Term 2020:
Summer Term 2020:
Winter Term 2019:
Summer Term 2019:
Projects
Accompanying my theoretical research, there are two projects I mainly work for:
Conexp-Clj — Scale-Exploration Standalone
Accompanying our research on conceptual measurements, we implemented the exploration of scale-measures algorithm in conexp-cjl and provided a standalone (Ready for Use) version of the algorithm. Associated Papers:
Hanika, T., Hirth, J.: Quantifying the Conceptual Error in Dimensionality Reduction. In: Braun, T., Gehrke, M., Hanika, T., and Hernandez, N. (eds.) Graph-Based Representation and Reasoning – 26th International Conference on Conceptual Structures, ICCS 2021, Virtual Event, September 20-22, 2021, Proceedings. pp. 105–118. Springer (2021).
Hanika, T., Hirth, J.: Exploring Scale-Measures of Data Sets. In: Braud, A., Buzmakov, A., Hanika, T., and Ber, F.L. (eds.) Formal Concept Analysis – 16th International Conference, ICFCA 2021, Strasbourg, France, June 29 – July 2, 2021, Proceedings. pp. 261–269. Springer (2021).
Hanika T., Hirth J.: On the Lattice of Conceptual Measurements

submitted.
Conexp-Clj — A Research Tool for FCA
The research unit Knowledge & Data Engineering continues the development of the research tool conexp-clj, originally created by Dr. Daniel Borchmann. The continuous enhancement of the software package is supervised by Dr. Tom Hanika. Having such a tool at hand, the research group is able to test and analyze the theoretical research efforts in the realm of formal concept analysis and related fields. The most recent, pre-compiled, release candidate can be downloaded here.
A presentation of the tool can be found in Conexp-Clj – A Research Tool for FCA

BibSonomy
BibSonomy is a scholarly social bookmarking system where researchers manage their collections of publications and web pages. BibSonomy is an open source project, continously developed by researchers in Kassel, Würzburg, and Hanover. Functioning as a test bed for recommendation and ranking algorithms, as well as through the publicly available datasets, containing traces of user behavior on the Web, BibSonomy has been the subject of various scientific studies.
About BibSonomy Blog Open Source Repo Twitter
Im Projekt faire digitale Dienste: "Ko-Valuation in der Gestaltung datenökonomischer Geschäftsmodelle (FAIRDIENSTE)" wird ein interdisziplinärer Ansatz verfolgt, der sowohl soziologische als auch (wirtschafts-)informatische Aspekte beinhaltet. Es werden faire Geschäftsmodelle untersucht, die auf Kooperation und Wertevermittlung zielen.
Ein Ziel der Arbeit ist die Weiterentwicklung informatischer Methoden zur qualitativen Datenanalyse, welche die an den Kundenschnittstellen digitaler Dienste auftretende Konfliktlandschaft transparent machen und die für Verbraucher*innen eine kritische Beurteilung verschiedener Wertgesichtspunkte ermöglichen soll.