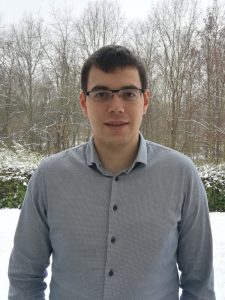 Dominik Dürrschnabel
Raum 0445A
Universität Kassel
Fachbereich Elektrotechnik/Informatik
Fachgebiet Wissensverarbeitung
Wilhelmshöher Allee 73
34121 Kassel
Tel.: +49 561 804-6298
Fax.: +49 561 804-6259
Email: duerrschnabel@cs.uni-kassel.de
BibSonomy: https://www.bibsonomy.org/user/duerrschnabel
publications
Dürrschnabel, D., Hanika, T., Stumme, G.:

DimDraw — A novel tool for drawing concept lattices

. submitted.
Axenovich, M., Dürrschnabel, D.:

Subsets of vertices of the same size and the same maximum distance

. In: Theory and Applications of Graphs: Vol. 5 : Iss. 2 , (2018), Article 7.
Demel A., Dürrschnabel D., Mchedlidze T., Radermacher M., Wulf L.:

A Greedy Heuristic for Crossing-Angle Maximization

. Accepted to Graph Drawing 2018, Track B.
teaching
Sommersemester 2019

Wintersemester 2018/2019