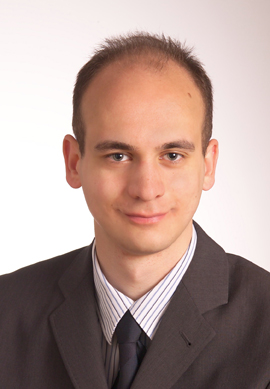 Hinweis: Stephan Doerfel ist seit dem 30.04.2016 nicht mehr im Fachgebiet beschäftigt.
Email: doerfel@cs.uni-kassel.de
about me
My research at Kassel University includes the investigation of scientometrics and webometrics, correlations thereof and their possible applications for recommendations and rankings. Further interests include formal concept analysis, social network analysis, and machine learning in general.
I am also a senior developer of the blue social bookmark and publication sharing system BibSonomy.
publications
Full list of my publications and posters.
top publications
Zoller, D., Doerfel, S., Jäschke, R., Stumme, G., Hotho, A.:

Posted, visited, exported: Altmetrics in the social tagging system BibSonomy.

Journal of Informetrics .

10,

732 – 749

(2016).

Doerfel, S., Jäschke, R., Stumme, G.:

The Role of Cores in Recommender Benchmarking for Social Bookmarking Systems.

ACM Transactions on Intelligent Systems and Technology.

7,

40:1-40:33

(2016).

Doerfel, S., Zoller, D., Singer, P., Niebler, T., Hotho, A., Strohmaier, M.:

What Users Actually do in a Social Tagging System: A Study of User Behavior in BibSonomy.

ACM Transactions on the Web.

10,

14:1–14:32

(2016).

Doerfel, S., Jäschke, R.:

An Analysis of Tag-Recommender Evaluation Procedures.

Proceedings of the 7th ACM conference on Recommender systems (RecSys 2013)

.

pp.

343-346

.

ACM, Hong Kong, China

(2013).

Doerfel, S., Hotho, A., Kartal-Aydemir, A., Roßnagel, A., Stumme, G.:

Informationelle Selbstbestimmung Im Web 2.0 – Chancen Und Risiken Sozialer Verschlagwortungssysteme.

Vieweg + Teubner Verlag

(2013).



projects
These are the projects I have mainly worked on. Through my research, I have further been involved with the projects Venus, EveryAware, and PoSTs.
PUMA

In the DFG funded project "Akademisches Publikationsmanagement" (PUMA), we used and extended the BibSonomy software to create a new web portal that is run locally at an institution (library, university, etc.) and that integrates there with the existing eco system by connecting to the local open access repository, the publication discovery service or the eLearning platform.

Info 2.0

In the DFG funded Project "Informationelle Selbstbestimmung im Web 2.0" (Info 2.0), we analyzed opportunities and risks in Web 2.0 systems, regarding issues of privacy. A second aspect that was investigated were consequences of user-generated ratings and reviews of products and particularly of scholarly publications. The project's results have been published as a book.

BibSonomy

BibSonomy is a scholarly social bookmarking system where researchers manage their collections of publications and web pages. BibSonomy is an open source project, continously developed by researchers in Kassel, Würzburg, and Hannover. Functioning as a test bed for recommendation and ranking algorithms, as well as through the publicly available datasets, containing traces of user behavior on the Web, BibSonomy has been the subject of various scientific studies.
activities
Full list of my reviewing and teaching activities.
recent activities
teaching
Sommersemester 2015
Information on previous courses can be found here at BibSonomy. In each term we offer several student projects in the context of the web 2.0 and of knowledge discovery.