We are happy to announce the following social events at this year's LWA:
Guided City Tour through Kassel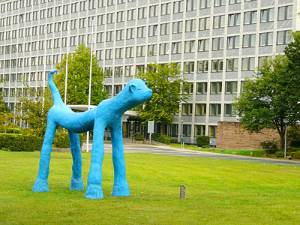 Most people know Kassel only from passing by the train station "Kassel-Wilhelmshöhe" - which is a pity! The Documenta, which takes place every 5 years in Kassel, is one of the most important exhibitions of modern and contemporary art. Each time, it leaves some interesting marks within the city; our guided tour (available in German and English) on Monday at 19 o'clock will show you the most exciting ones.
The meeting point for the tour is in front of the Fridericianum (the purple camera symbol on the map below). You can reach it most easily by tram; get off at the tram station "Friedrichsplatz", and you are right there.

LWA2010 auf einer größeren Karte anzeigen
The guided tour is included in the conference fee.
Conference Dinner
The conference dinner will take place on Monday at 20 o'clock at the Orangerie, built in the early 18th century under Landgrave Carl as his summer residence. See the menu below.
The conference dinner is not included in the conference fees.
Menu of the LWA 2010 Conference Dinner
Starters
Schaumsuppe von Broccoli mit Mandeln 5,50 €
Lauwarmer Ziegenkäse auf Rucolasalat mit Balsamico 8,50 €
Main Courses
Pfannküchlein mit einer herzhaften Füllung von frischem Marktgemüse auf einer leichten Basilikumsauce 10,50 €
Rinderstreifen mit Paprika in pikanter Jus, dazu Basmatireis 13,50 €
Maispoulardenbrust auf Riesling-Schnittlauchcreme mit Zuckerschoten und Rösti 14,50 €
Lachs aus dem Buchenrauch auf Zitronenbutter mit Spinat und Bandnudeln 15,50 €
Dessert
Beerengrütze mit Mascarponeeis 5,50 €
Bunter Eisbecher mit frischen Früchten 6,50 €
Crème brulée - Bourbon Vanillecrème 6,50 €
"Fingerfood for thoughts" - social poster session
Thanks to our sponsors, we are happy to invite you to a cozy poster session on Tuesday evening, including some wine and snacks. We hope this becomes an interesting and fun event - so if you have some poster, demo or anything else you'd like to show to the poster session crowd, don't hesitate to bring it along!