PD Dr. habil. Martin Atzmüller
Universität Kassel
Fachbereich Elektrotechnik/Informatik
Fachgebiet Wissensverarbeitung
Raum 0445A
Wilhelmshöher Allee 73
34121 Kassel
Tel.: ++49 561 804-6298
Fax.: ++49 561 804-6259
atzmueller@cs.uni-kassel.de
Ubiquitous and Social Systems
Subgroup Analytics:
About
Martin Atzmueller is adjunct professor (Privatdozent) at the University of Kassel and heads the Ubiquitous Data Mining Team at the Hertie Chair for Knowledge and Data Engineering. He earned his habilitation (Dr. habil.) in 2013 at the University of Kassel, and received his Ph.D. in Computer Science from the University of Würzburg in 2006. He studied Computer Science at the University of Texas at Austin (USA) and at the University of Wuerzburg where he completed his MSc in Computer Science.
His research areas include data mining, social computing, mining social media, machine learning, web science, and big data analytics. In this context, he is directing the VIKAMINE project for subgroup discovery, pattern mining and analytics, the Ubicon project for implementing social and ubiquitous applications (see Conferator), and the Sensor Data Collection Framework (SDCF) for mobile sensing and ubiquitous data processing.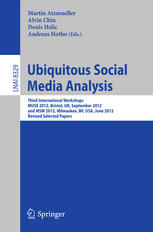 ***New Book on Ubiquitous Social Media Analysis***
New co-edited book (with A. Chin, D. Helic and A. Hotho)
on Ubiquitous Social Media Analysis (Springer LNCS-LNAI).
+++ Current Events and Activities +++